Available Worldwide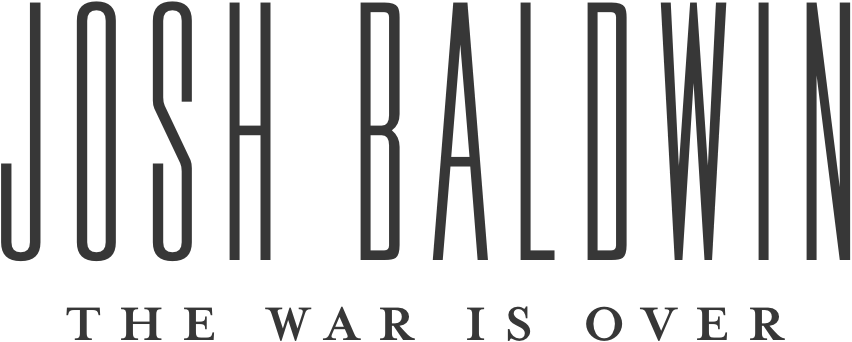 Play Promo Video
The War Is Over
The War is Over is the debut solo album from worship leader and songwriter, Josh Baldwin. The War is Over marks Baldwin's first release with Bethel Music. In 2015, Josh and his family made the cross-country move from North Carolina to California, and this project reflects synonymous themes of taking an appointed journey into the unknown, motivated by the hope of promises that lie ahead. The project blends sonic elements that reflect Josh's southern roots and where he is planted now. This album takes worshippers on a journey toward the reality that resurrection life was not meant to be experienced alone, but as a family.
Josh Baldwin
The Artist
Josh joined Bethel Music in 2014 and regularly leads worship at Bethel Church, while touring domestically and internationally. In his songwriting and worship leading, Josh creates an inviting atmosphere of celebration. His songs point to the trustworthy nature of God as Friend and Father. Josh and his wife Sheila enjoy adventuring, hosting, and raising their two amazing children in Redding, California.
The Lyrics
There is a mountain in between, What You have said and what I see. Standing before this offering, My failing heart will fight to believe.
The Music
Get Your Hopes Up
The War Is Over

The Devotional

Josh Baldwin

The week Bobby Strand and I wrote "The War is Over" will always be vivid in my memory. We went into a writing session with only the title of the song. I remember thinking, "What does that statement even mean?" The more I asked the Lord about it and the more we wrote down our thoughts, it began to make sense: we were writing a song that not only declared what the Lord has done for us, but that called out to the prodigal son or daughter. It became a search for fresh language to depict what resurrection life is actually like.

I love to see lost sons and daughters realize that they are loved and have already been won. Yes, we struggle in the day to day battles of life, but the amazing truth is that Jesus has defeated death and the grave. He has made a way for us and we are born for glory out of dust. I believe we are called to be freedom riders who ride through the streets calling out to the orphans and prodigals declaring, "The war is over and it's time to come home!"

What if we walked out each day knowing that the war has already been fought and won for us, that we have already been forgiven, that new mercies really do come with every morning? We don't have to fight for something that has already been won. We can walk in complete victory as sons and daughters of a father whose love is tangible. We can walk in freedom, touching the lives of those around us who haven't yet experience His immeasurable love. What areas in your life do you still live in war? What are those areas in your life that you need to break open and let freedom pour in? Today can be the day that complete freedom enters into your life and the full victory of the cross becomes your identity.

The War Is Over

The Devotional

Josh Baldwin

"Well, don't get your hopes up." At some point in time I can almost guarantee that all of us have had this said to us after sharing an exciting idea or seemingly far-fetched dream with a friend or family member. I know I have definitely had these thoughts flood my mind just as I was dreaming of something amazing that I wanted for my life. However, not only is it ok to dream big, but the Lord actually wants us to get our hopes up!

The week that I wrote the song "Get Your Hopes Up" I experienced some of the worst depression of my life. There was no reason for it. I was in a great place in my marriage and with the Lord. As I began to lean into the Lord and remind myself of His promises, I saw the truth of what was happening. I was battling the war in my mind, the thoughts of fear and heaviness that creep up and want to crush the dreams and hopes of creativity before they have a chance to grow and bloom into what they are meant to be. It is crazy that so often many of us entertain thoughts that Satan intends to detour us with, because these are the opposite thoughts that He has for us.

In these moments we have a choice to remind ourselves of who we are in Him. Choose to lift your head up and see the way God sees. The more we see things from His perspective the more our faith rises. The more our faith rises the more we get the confidence to step out, and when we step out he always meet us there. God has not only given us permission to dream big, he has created us to grab hold of promises that will propel us into a prosperous future.

The War Is Over

The Devotional

William Baldwin, father of Josh Baldwin

Waiting. We do crazy things to avoid it. I've crisscrossed lanes on freeways and grocery store checkout lines just to outrun the lag time. In busying myself it feels like I'm beating the clock and the crowds. And I'm not alone. Our world loathes delays, but God's world of faith requires them. Often, an overlooked part in living a life of faith is in waiting.

Consider Abraham waited twenty-five years before his promise was born. Later, God asked him to offer up his beloved Isaac as a sacrifice. Taking wood for the fire, a knife, and the boy, the three-day journey up the mountain took far more faith than the twenty-five years. Even so, the divine pause between the raising of the knife and the angel's interruption required even greater faith. Never despise your delays, those seasons when your failing heart fights to believe. "Abraham, having patiently waited, obtained the promise" (Hebrews 6:15). Stay in your lane, wait upon the Lord, and so will you.

The War Is Over

The Devotional

Sheila Baldwin, wife of Josh Baldwin

"Surely goodness and mercy will follow me / Surely all that you promised is so much more than I can see / I will rest in the assurance that I have all I need...."

I think peace, surrender and thankfulness are the perfect trio. It's impossible, in my experience, to have peace without surrendering our expectations and putting thanksgiving on our lips. When your mind is swirling, your heart is bleeding, and you can't handle one more disappointment, surrender and turn to thankfulness. He will surely come, he will surely deliver. Sometimes the hardest part is that it often looks different than we think.

Everything in our heads, along with the direction of our heart, begins to shift when we begin to say, "thank you". Even if, in all of your despair, you can only say "thank you" for one thing, you are building a position of peace in your heart. The anxiety in your mind is quieted by remembering His continual posture of goodness. Surrender control and trust His love for you. Thank Him for the rivers of blessing in your life. Peace and conflict cannot share the same space. What will you choose today?

"I would have despaired unless I had believed that I would see the goodness of the Lord In the land of the living." - Psalm 27:13

The War Is Over

The Devotional

Stephen Hart - Bethel Music Visual Worship Leader

"The war is over". What an intriguing, even shocking, statement. Profoundly simple and at once boldly definitive. When Jesus declared the words, "it is finished" on the cross, He was imparting power and life to everyone, throughout all eternity. His physical posture in this moment speaks volumes to this truth: arms outstretched, beckoning us into an eternal embrace of salvation. His body was crucified to a cross, upon a hill. As He was lifted up He saw not only His physical surroundings - but humanity in it's entirety - from the Heavenly realms.

Whether our circumstances feel as though we're dancing in victory upon Mount Zion, or deep in the regret of past choices, mistakes we've made, and earth-induced timelines that we can't alter… the war is over. Lay down your weapons; your best attempts and striving, and come running into the Arms of Peace; the peace that passes all understanding, giving strength and courage to walk on, no matter what stands in your way.

In the natural you may be standing on a battlefield - whether it be for physical healing, provision, for a second chance, for hope. What are you carrying that you can actually lay down? Imagine yourself picking up gifts of peace, freedom, safety, restoration, and promise. His presence attends to every area in our hearts, every situation that needs breakthrough; and His embrace is not just comforting, but victorious.
Found In You